XCMG XCA1600 Helps Transform and Upgrade Bangladesh Power Grid
Publication Date: 2022-11-17
It took 3 days and 2 nights to hoist XCMG XCA1600, a sharp tool from China: a giant fan with a single blade length of 77 meters and a blade and hub weighing 80 tons was perfectly docked with the engine room at an altitude of 100 meters, which is equivalent to the height of a 33-story building.

It is understood that the XCMG XCA1600 blue giant held by Shaanxi Zhongju Construction Co., Ltd. is serving the Keba wind power project this time, which is the first large-scale centralized wind power project in Bangladesh and the first new project built by a Chinese company in Bangladesh. energy project.

As a successful example of XCMG's 1,000-ton all-terrain cranes applied to the international hoisting market, this time, XCA1600 is once again "going out" with Chinese hoisting companies, and the successful practice of flexing its muscles on the international stage is of great significance.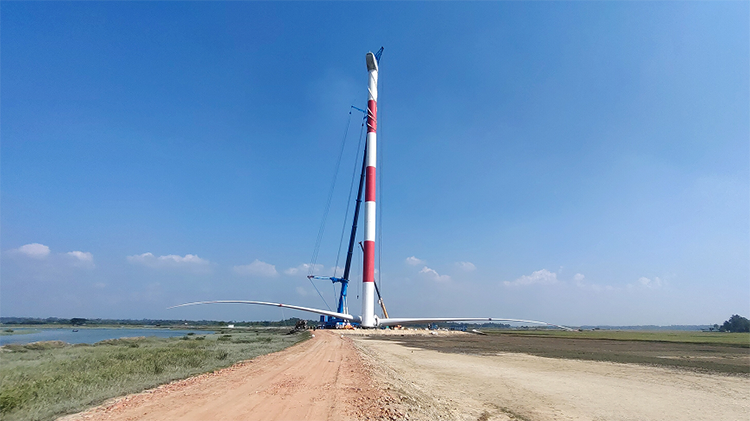 The total installed capacity of the wind farm is 66 MW, and 22 wind turbines with a single capacity of 3.0 MW are installed. After completion, the average annual power generation of the wind farm will be 144.9185 million kwh, which will give full play to the role of energy saving and environmental protection, and play a positive role in promoting economic development, energy saving, emission reduction and environmental protection in the region.

For wind power hoisting projects, having safe and efficient hoisting equipment is a necessary condition and a value-added condition. With the height of each section of the tower, the ultimate test in the installation process - the installation of the wind turbine has finally come.

The millimeter-level accuracy requirements not only test the patience and care of the hoisting personnel, but also test the strong stability and micro-movement of the hoisting equipment.

XCMG XCA1600 plays stably. Under the clear sky, after full preparation in the early stage, the wind turbine hub was perfectly fixed on the cabin in only 34 minutes. The efficient installation of one wind turbine within 3 days has greatly improved the construction efficiency of the wind farm.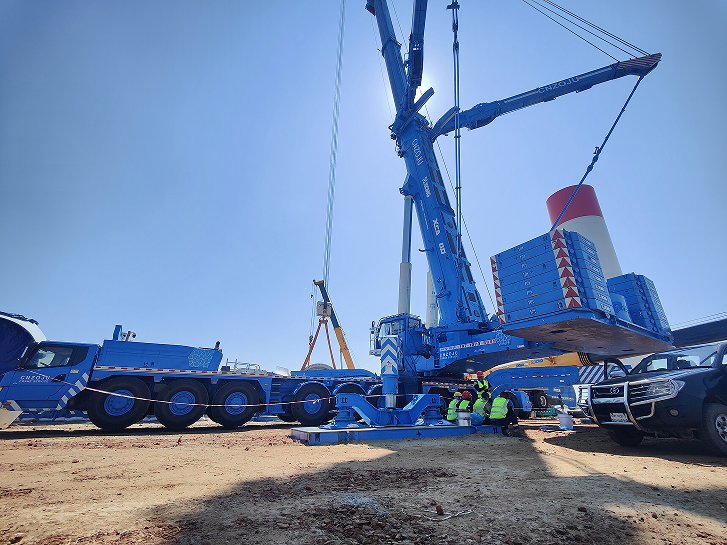 Benefiting from the rapid development of the domestic wind power industry, as the "diamond" supporting the overseas expansion of the wind power industry, XCMG super cranes rely on their significant performance, safety and efficiency advantages to follow high-quality customers overseas one after another to contribute to global new energy construction. Contribute the wisdom and strength made in China.